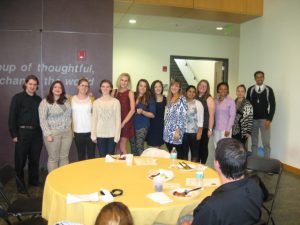 The Department of Sociology, Anthropology, and Health Administration and Policy at UMBC offers a graduate program leading to a Master of Arts in Applied Sociology. The degree program in Applied Sociology emphasizes the "practical side" of sociology and the acquisition of analytic skills to prepare students for employment in many professional settings, including public and private organizations involved in social research, social policy, and program development. Program foci include sociology of health, illness, and medicine; aging and the life course; selected areas of diversity, gender, and culture; and applied research methods. Graduates of the program work at the Center for Medicare and Medicaid Services (CMS), the Social Security Administration (SSA), the National Institutes of Health (NIH), the National Institute of Aging (NIA), the Bureau of the Census (BOC), the Maryland Department of Health (MDH), medical school and university research centers, nonprofit organizations, and private research organizations.
Many courses are offered exclusively to M.A. students while others are open to both graduate and advanced undergraduate students. The program is designed to be completed on a full-time or part-time basis. Classes are offered at various times throughout the day to accommodate different schedules. Most courses are offered at 4:30-7:00 pm one day per week to accommodate students with full-time employment or other obligations.
Students can enter the program either in the fall or spring semesters. Applications are reviewed on a rolling basis until August 1st for Fall admission and January 1st for Spring admission. If you are not able to submit your application by the dates above and are still interested in applying, please contact sociologyma@umbc.edu. Deadlines for international applicants are slightly earlier. Apply here.
Post-Baccalaureate Certificates in the Nonprofit Sector, Social Dimensions of Health, and Applied Social Research Methods are offered either separately or as part of the M.A. program. Each certificate consists of 4 courses. These courses also count toward the M.A. degree, which permits M.A. students to complete the certificate without taking additional courses.
A number of assistantships are available in the department and elsewhere on and off campus. Assistantships require 10 to 20 hours of work per week and provide tuition remission, health insurance, and a stipend. Assistantships are assigned on a competitive basis.